Thriving Through Seasons of Grief is now available!
Do you know someone that has lost a love one? This book is a great holiday gift that will be useful and helpful. Get your autographed copy today or order on Amazon. Also, at the following local stores:


In Kerrville:
Kerrville Daily Times at 429 Jefferson St.
Kerrville Health Food Street at 141 West Water St.
Impact Christian Fellowship at 2031 Goat Creek Rd.
The Water Tree at 431 Quinlan St.
In Uvalde:
Amy's Attic at 116 N. Getty St.
In New Braunfels:
The Crossing at 322 W. San Antonio St.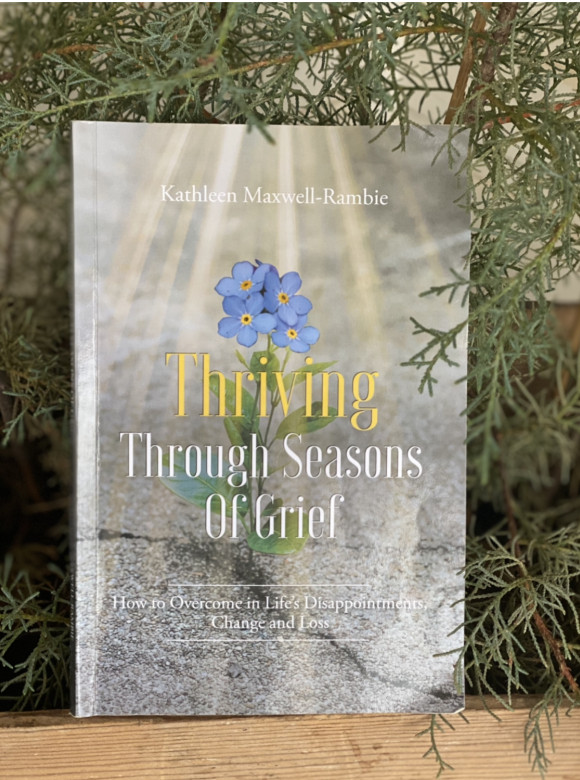 Reviews for Thriving Through Seasons of Grief
"I have known Kathleen Maxwell-Rambie personally and in ministry for many years. She has not only walked this journey herself but allowed Jesus to walk it with her and has been transformed by the experience. Because of that, her writing is like having a compassionate and strong friend come up and take your arm, saying, "I'll walk through this with you." The truths here are a beautiful balm to a battered heart. Her chapters are concise because she remembers that in a time of grief, you can't process a great deal.
Her writing gives permission to go at your own pace, understanding that everyone's journey will be unique. It gently disassembles the walls of isolation that "I must be the only one" or "If I was stronger, I would be over this."
Kathleen makes no demands. She only gives gifts... beautiful, compassionate, strengthening gifts of grace and hope that bring life and freedom."
Allison Bown
Creative Partner at Brilliant Perspectives
and author of "Joyful Intentionality" and "The Image"
Brilliantbookhouse.com
"If you are walking through any kind of pain from loss or find yourself helping someone navigate through the rough waters of grief, Kathleen's book, "Thriving Through the Season of Grief", is for you!!! As a Hospice Director for many years, I have read almost every book out there on grief. This is one of the best. Kathleen's fresh approach doesn't just take you on her journey through her losses; she gives you the stepping stones, tools, and promises you will need to make it through your own personal journey. She calls it the "Price of Love".
The process of grief doesn't come with a map, calendar, or a flashlight but the words in this book will guide you to identify the types of grief you are feeling and help you understand the Challenges, the Benefits, the Healing, the Hope, the Promises, and How to Thrive Again! Having sat in the bleacher watching Kathleen walk through some of the deepest pain of loss, to listening to her teachings, and reading her writings, this book is a testament to the depth, strength, and integrity of an amazing God Loving Woman.
We will definitely stock our shelves with this valuable book to use as tools to help our patient's families and our friends."

Cassie Alex
New Century Hospice Kerrville
Director of Operations
"As a pastor who has counseled people with various stages of grief, this book is a must read. And especially for anyone who is held in its agonizing grip. Also, it is for everyone, as it will help prepare us all, for what is yet to come, as we experience loss of loved ones and the ups and downs in life.
The book is very inciteful and well written from a person who has experienced various forms of grief. The book gives a thorough understanding of what grief is, the different kinds of grief, the stages of grief and gives a pathway out. It is very encouraging and gives hope as it explains the positive and uplifting benefits of grief. I highly recommend "Thriving Through Seasons of Grief" even for those who have not yet experienced all of its ramifications."
Franklin Williamson
Pastor and Director of Treasure Commission
"Kathleen Maxwell-Rambie has written a book that many can identify with and will be comforted by her experiences and her understanding of the process of grief.
Everyone will experience the loss of a person they love at some time in their life and her book is a guide for what to expect in the grieving process.
It also will be helpful for understanding the emotions that a person will experience, in a time of grief.
She has written a book that will be beneficial to everyone at any stage of their lives. The book also enables us to understand what others might be experiencing in their loss of any kind. I highly recommend this book for everyone."
Katie Bess Williamson
Pastoral Care, Counselor, and Business Owner
"Kathleen Maxwell-Rambie became my friend and Christian mentor over 30 years ago. Over that period of time we have shared some of life's biggest blessings, and we have also shared some of life's most unfortunate tragedies. In 2014, I found myself widowed, in 2017, I suffered another great loss, and in 2019 my home of 20 years burned to the ground. Because Kathleen has walked through her own losses and grief, she was able to share with me the faith and wisdom that she learned along the way which in turn, has given me understanding, courage, and hope for my own journey.
I have found Kathleen's new book to be extremely comprehensive. In it, she covers the stages and types of grief, what to expect and how to care for yourself and others. She talks about forgiveness and why that is so important in the healing process and even provides scriptures to help us focus on God's truth instead of lies or our own emotions. It is very honest and relatable and is based on Kathleen's own experiences, as well as those of others.
This is the first book on grief that I have read (and I have read a lot!) that focuses on not just surviving, but THRIVING in grief. Although grief is never a positive experience or something anyone wants to go through, this book challenges us to look for the positive and to try and grow in it, both personally and spiritually."
Teri Schreiner
The Gathering Leadership Team
Business Owner, and Widow