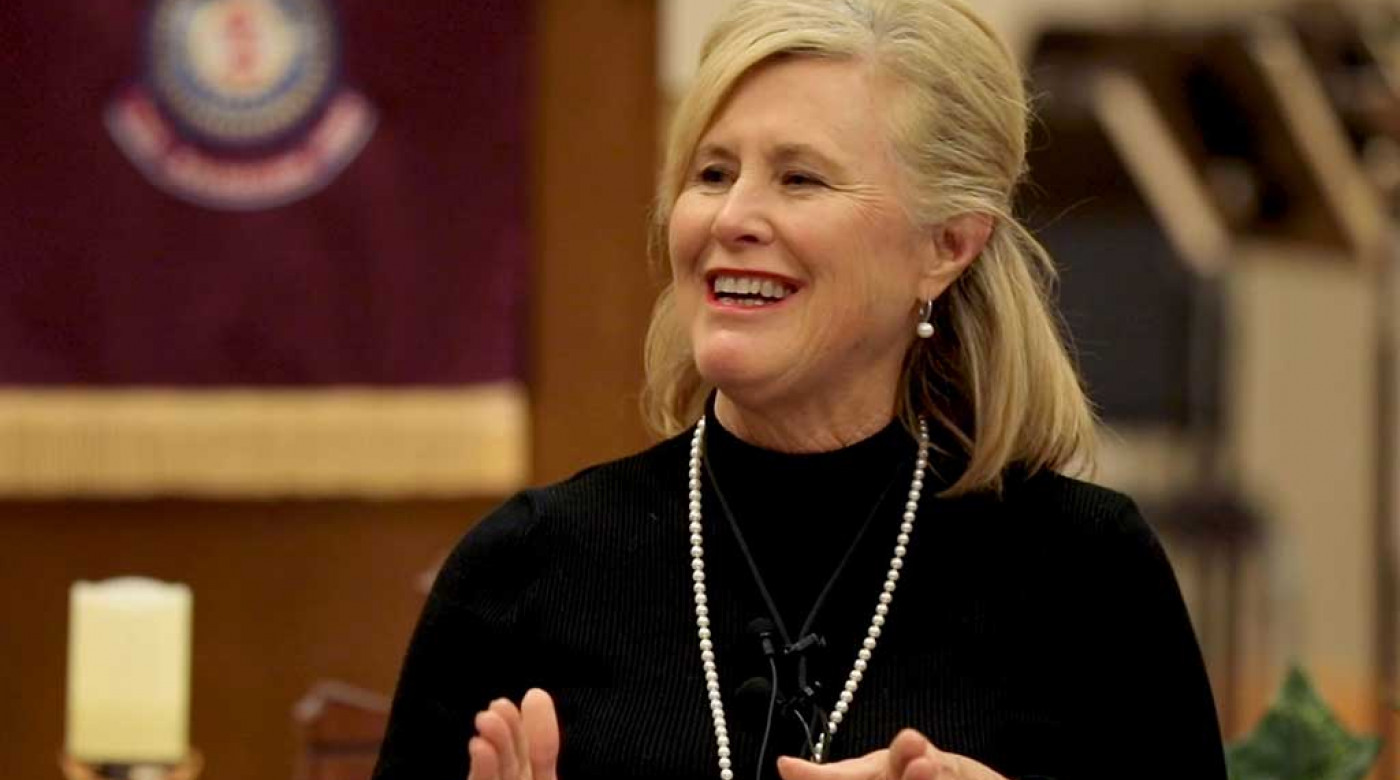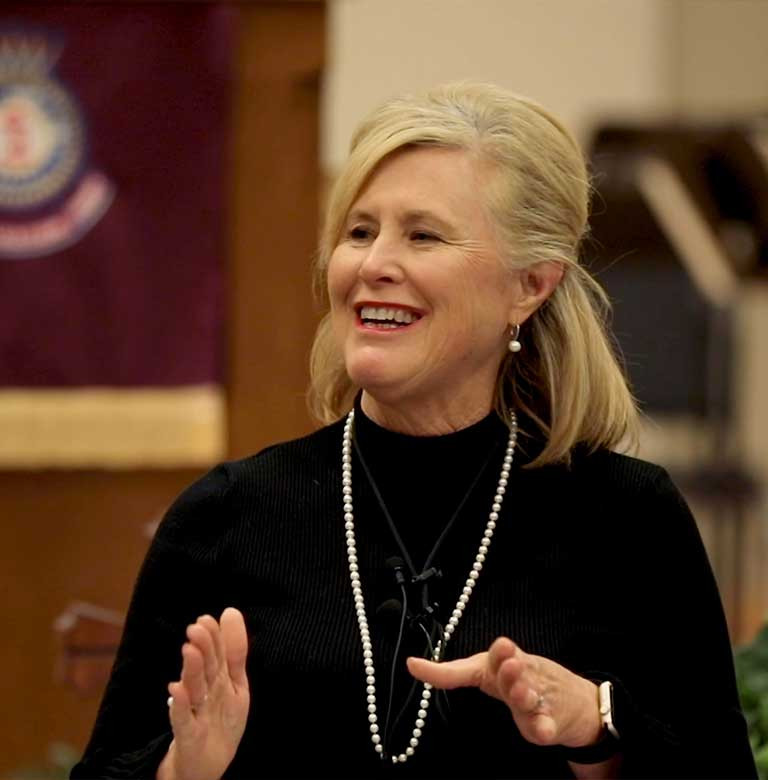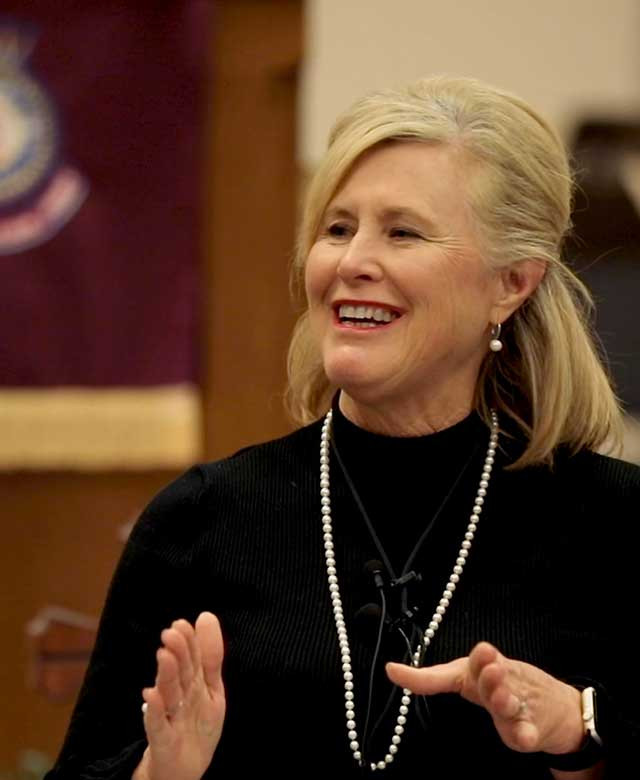 Bringing God
into Everyday Life.
Kathleen Maxwell-Rambie
Writer. Speaker. Encourager.
Hi Friends!
I am Kathleen Maxwell-Rambie, an ordinary Texas girl, leading an extraordinary life. And it is all because of the amazing God I walk with each day.
I have discovered Jesus has provided abundant life for us, regardless of our circumstances. Much of what I share, are transparent stories about my own life, journey with Him and His word.
I share my life stories as a wife, mother, grandmother, widow, business owner, social worker, teacher, author, writer, caregiver, minister, friend and lover of Jesus. I have worked in social work and ministry for two decades.
I have had my share of unexpected events in life, however, in those places of devastation, I have found a God that loves me dearly. I speak from my heart and with authenticity of the changing seasons and disappointments of life, and how God wants to be a part of our everyday life. He just waits for us to partner with Him.
I am passionate about helping people discover their value and worth in life and have great compassion for those in need and find themselves in the ashes of life. I love motivating and encouraging people in their journey and walk with God.
On a personal note, my husband Stephen and I have five children and eight grand babies that we adore. We love to fish, hunt dove and quail, and enjoy time with our friends and family.
Joyfully,
Kathleen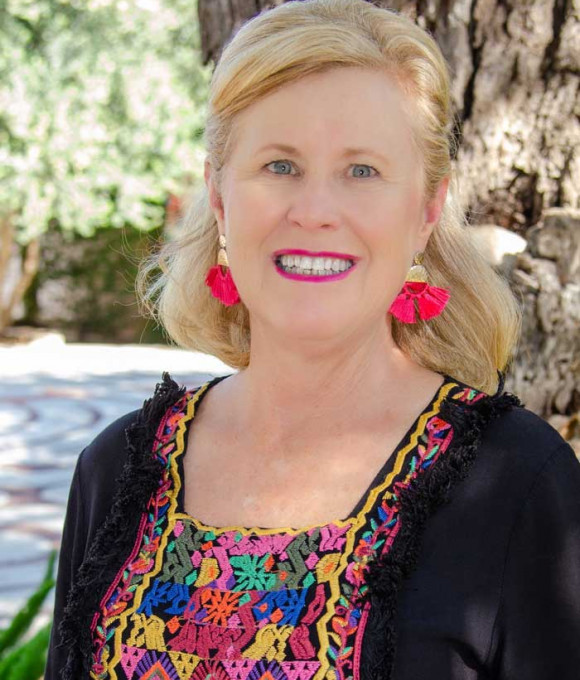 The Gathering
Bringing God into Everyday Life
Listen to Kathleen's Podcast
Weekly encouragement, hope, and peace for bringing God into everyday life.
Enjoy Kathleen's Podcast
I welcome you to listen to my latest podcast, covering today's topics and questions in life on how we walk in the peace, joy, love, that God has provided for us. I share in a down to earth and transparent way, giving examples from my own life and the adversity I have faced.
There are now listeners from over 31 countries and I post short lessons, as well as longer ones that you can relate to and be encouraged.
Please click the follow button on the podcast and you will be notified when new episodes are released.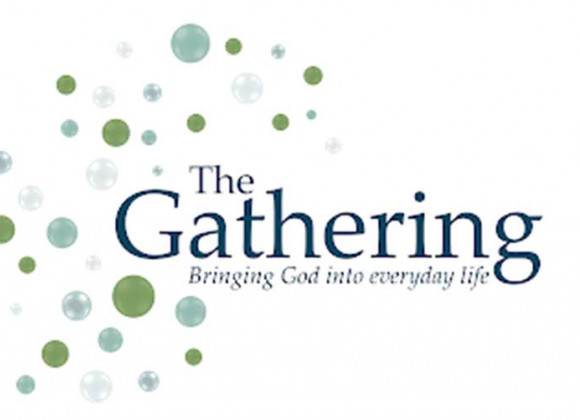 ---
Upcoming events
Thriving through Seasons of Grief and the Holidays Seminar
Tuesday, November 14, 2021 6:00-8:00 p.m.
El Progreso Library at 301 W. Main St. Uvalde, Tx
In this seminar, Kathleen Maxwell-Rambie, author of the book, Thriving Through Seasons of Grief, will share how change and loss are a part of life and when we embrace it, we can grow and become better people. There are many different kinds of grief that will be explored in the class beyond the loss of a loved one. Grief can be experienced in the loss of a job, moving to a new location, children leaving home, loss of a pet, death of a dream or divorce. We will explore letting go, the benefits of grief, healing of your heart, and how to thrive in the seasons of loss. The course will also help friends and family of someone grieving better understand their loved ones. Grief and change are great teachers that can provide us much understanding about ourselves and others. The class will also cover grief and navigating through the holiday season.
As Maxwell-Rambie shares transparently from her personal journey of loss and sudden change, every participant will find beauty and encouragement in the ashes of life and learn tools to move from tragedy to triumph.
INSTRUCTOR BIO: Kerrville, Texas native, and author, Kathleen Maxwell-Rambie joins her passion for the Lord and compassion for those in need. Kathleen has ministered to many over the last three decades as a teacher, social worker, speaker, and writer. Kathleen transparently shares, motivating and encouraging, offering hope to her audiences. She is a regular columnist for the Uvalde Leader News and several other Hill Country newspapers, and is a podcaster, sharing openly about daily walking with God. www.kathleenmaxwellrambie.com
Register by emailing, [email protected] or call 830-377-8061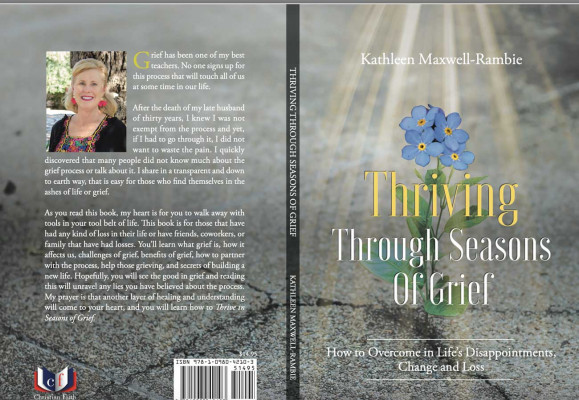 Thriving Through Seasons of Grief:
Finding Beauty in the Ashes of Life
Thriving Through Seasons of Grief has been released!

Grief has been one of my best teachers. No one signs up for this process that will touch all of us, at some time in our life.
As you read this book, my heart is for you to walk away with tools in your tool belt of life. This book is for those that have had any kind of loss in their life or have friends, coworkers, or family that have had losses. You'll learn what grief is, how it affects us, challenges of grief, benefits of grief, how to partner with the process, help those grieving, and secrets of building a new life. Hopefully, you will see the good in grief and reading this will unravel any lies you have believed about the process.
It will teach you how to overcome in times of disappointment, change and loss. It is also for those that have lost someone they love as well as for friends and family of someone grieving.
After the death of my late husband of 30 years, I knew I was not exempt from the process, and yet, if I had to go through it, I did not want to waste the pain. I quickly discovered that many people did not know much about the grief process or talk about it. I share in a transparent and down to earth way, that is easy for those who find themselves in the ashes of life or grief.
My prayer is that another layer of healing and understanding will come to your heart, and you will learn how to thrive in seasons of grief and disappointment.
Kathleen
Thoughts from Readers and Listeners...
For more Testimonials, click the "Read More" button.
"I highly recommend Kathleen's book to any reader experiencing grief. This is an engaging read. Seldom do you find a book that is both highly instructive, and truly inspiring at the same time. Kathleen provides practical advice and inspiring stories how God helped her triumph over adversity. "Sometimes the only...
Lisa Davis, RN
Hospice Nurse for 10 years
When I think of Kathleen Maxwell I think of a beautiful person who sincerely loves Jesus and desires everyone to know Him. Kathleen truly cares about people which is why she has dedicated her life to teaching others.
Kathleen teaches us how to overcome real life situations through prayer and scriptures....
Linda Forse
The Gathering has been a true blessing to me & others. Each lesson Kathleen teaches or speaks on is unique.
She is a true Godly woman & stands so firm in her belief & it spreads to each person who has gathered to listen to her. She partners with God & she is teaching us as listeners, that we can all have...
Betty Cowlishaw